Hem / Radioarkivet / Bio / Kontakt /
Den Skrattande Polisen - Ett program om Noveltymusik och Novelty sånger
Sändes i P2 Söndagen den 6 April klockan 1400
och Tisdagen den 8 April klockan 1230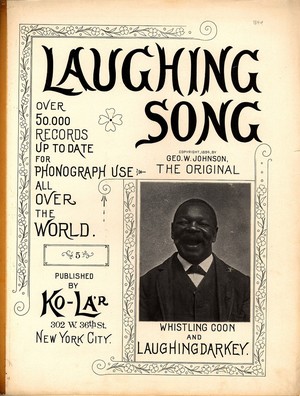 Vi stiger ner och rör om i den musikaliska skräpkammaren.
Och hittar musik som knappast har recenserats , många lyssnar på i smyg och som andra håller för öronen när dom hör den. Musik som många inte vill kännas vid, som förargar dom flesta och som några få tycker är rolig och rent av underhållande. Musik som ingen skriver om och som inte har någon historia. Eftersom ingen bryr sig om att skriva om den. Musik som är som man gjort och gör för att skoja och skämta - göra sig lustig över saker och ting som händer och sker i nuet. Ibland blir det till bits politisk ironi, ibland till dråpligheter och skämt om samtida lustigheter. Musiken i skräpkammaren som på engelska brukar kallas för novelty music. Nyhetsmusik.
Ett program om Tom Lehrer, Bonzo Dog Doo Dah Band, Tiny Tim och Spike Jones. The Six Jumping Jacks, Al Yankovic och Stan Freberg.,Peter Sellers, Groucho Marx och alla de andra. Och vad alla dem har gemensamt. Noveltymusik och noveltysånger som skämtar och skämtade om myndighetspersoner, pengar och personliga skulder, lustiga kärlekspar, överklasstyper eller bondläppar, om flygmaskiner och bilfärder, ljudfilm och zeppelinare. Det vill säga om allt mellan himmel och jord. Eller så spelade man in skämtskivor som faktiskt inte egentligen handlade om någonting som helst - eller så skrev man lustiga små sånger om flugor.
Klicka här för att lyssna på:
My Brother Makes The Noices For The Talkies - 1930
The Laughing Policeman - Charles Penrose 1925
Second Hand Rose - Fannie Brice 1921
Der Fuhrers Face - Spike Jones 1942
Purple People Eater - 1950talet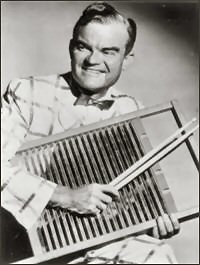 Spike Jones - klicka på bilden för att veta mera
The Laughing Policeman is a music hall song by Charles Jolly, the pseudonym of Charles Penrose. In 1922, Penrose made the first recording of this song, (Columbia Records FB 1184). The composition of the song is officially credited to his wife Mabel under the pseudonym "Billie Grey", however the music and melody are taken from The Laughing Song by George W. Johnson which was recorded in approximately 1901. The Penroses wrote numerous other laughing songs (The Laughing Major, Curate, Steeplechaser, Typist, Lover, etc), but only The Laughing Policeman is remembered today, having sold over a million records. Its popularity continued into the 1970s, as it was a frequently-requested song on the BBC Radio 1 show Junior Choice.
Spellista Den skrattande polisen :
1.
My Brother Makes The Noises For The Talkies
Albert Whelan sång med Jay Wilbur's Orkester
Komp: Amberg - Raymond - Bernauer - Ege
Inspelad London juni 1931
2. I Faw Down And Go Boom
Komp: Brockman - Stevens
Jack Payne BBC Dance Orchestra
Inspelad London 1929
3. They're Coming To Take me Away Ha-Haaa
Napoleon Bonaparte ( pseudonym för Jerry Samuels ) sång med orkester
Komp: Jerry Samuels
Inspelad USA 1966
4. OKeh Laughing Record
Al. H. Weston & Irene Young som spelar falsk trombon och skrattar
Komp: som ovan
Inspelad USA 1922
78 varvs stenkaka OKeh 4678
5. Den Skrattande Polisen
Komp: Penrose - Andersson
Ove Flodin sång med Gnesta-Kalles Kapell
Inspelad 1955
6. Iz Izzy Azzy Wozz
Komp: Arthur Le Clerq
Harry Nesbitt sång med Jack Hylton Orkester
Inspelad London 1929
7. Second Hand Rose
Komp: James F Hanley - Grant Clarke
Fannie Brice sång med orkester Rosario Bourbon
Inspelad USA 1922
8. The Story Of A Bar Mitzvah Boy
Sam Levenson - tal
Inspelad USA 1950
9. Second Hand Rose
Mrs Miller sång med orkester
Komp: James F Hanley - Grant Clarke
Inspelad USA 1966
10. The Laughing Policeman
Komp: Billie Grey
Charles Penrose sång och skratt med Stan Greenings Orchestra
Inspelad London 1926
11. I Lift Up My Finger And I say "Tweet,Tweet"
Komp: Leslie Sarony
Fred Douglas sång med Jay Whidden And His Band
Inspelad London 1929
12. The Flies Crawled Up The Window
Komp: Furber - Ellis
Ray Starita Ambassadors Band
Inspelad London 1932
13. Liebestraum
Komp: Franz Liszt - arr. Del Porter - Spike Jones
Spike Jones City Slickers
Insp. USA
14. Der Fuehrers Face
Komp: Wallace Oliver
Spike Jones City Slickers
Insp. USA 1942
15. I'm Against It
Groucho Marx sång med orkester och kör
Soundtrack inspelad 1933.
16. His Excellency Is Due
Komp: Kalmar - Ruby
Groucho Marx och Margaret Dupont sång och tal
Soundtrack inspelad 1933
17. She Loves You ( Inspired By Dr. Strangelove )
Komp: Lennon - McCartney
Peter Sellers sång med orkester
Inspelad London 1965
18. The Purple People Eater
Komp: Sheb Wooley
Sheb Wooley sang med orkester
Inspelad USA 1958
19. The Pretty Little Dolly
Komp: Jim Rusk
Mona Abboud sång med instr.ack.
Inspelad USA 1966
20. We Will All Go Togethr When We Go
Tom Lehrer sång med piano
Inspelad USA 1959
21. Old Fart At Play
Komp: Captain Beefheart
Captain Beefheart And His Band
Inspelad 1969

22. Axel F Crazy Frog Theme
Komp: Harold Faltermeier
Inspelad Sverige 2005
23. Klippt Hyland
Komp: Christian Bock
Christian Bock - elektronmusik komposition